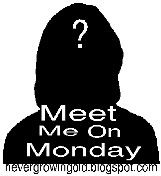 Yes, I know its not Monday but I wanted to do this anyway.
1. What is your favorite way to eat chicken?
I love grilled chicken, its my absolute favorite.
2. Have you decorated for Christmas yet?
Yes, well my husband has. I have been so busy with school work I was hardly able to help with anything.
3. What is your favorite article of clothing?
Oh wow, that is pretty hard. Since having Logan 4 months ago I have found it hard to fit into anything I like anymore so let me know. Okay on Black Friday I went out to Old Navy and bought the most comfortable pants I have ever worn, they are actually called "comfty pants". You have to get a pair of these. I wear them around the house or to go to the store.
4. Do you pay your bills online or write checks the old way?
Online, I've never written checks.
5. Do you make Christmas cookies?
I do, can't wait to make some this year. Any one have any good recipes to share/?