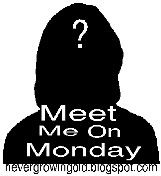 1. What is your favorite kind of cheese?
I like colby jack.
2. What size is your bed?
We just upgraded from a queen to king a few weeks ago. Now the whole family can fit in the bed, lol.
3. What is your most overused phrase?
Random. I say it all the time while talking, not so much online though.
4. Green or purple grapes?
Green, there is just something about purple grapes I don't like.
5. Shower, morning or night?
If I want my hair to look good I shower in the morning, if I wants to take a shower longer than 10 minutes or I won't have time in the morning I take them at night.